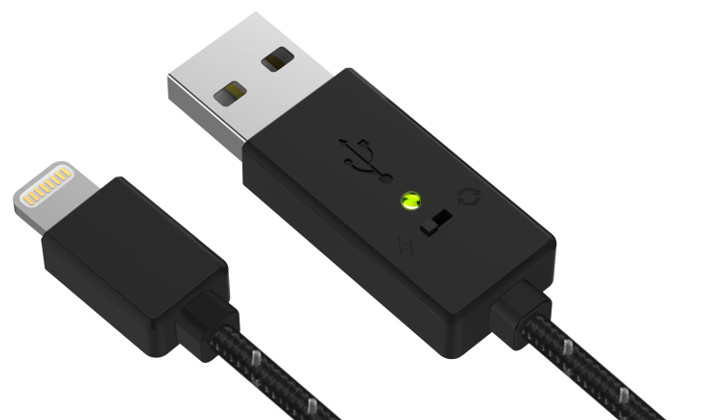 Smart & Secure Fast-Charge Cable: USB-Lightning
Use the USB port of your computer/laptop to charge your iPhone 5/5S/6/6S & Plus 2X as fast (compared with regular cables), and charge iPad at up to 2A (10W).
Block data transfer to hack-proof your device against untrusted charging source.
Incompatibility no more: use other after-market chargers that are otherwise iPad-incompatible to charger your iPad.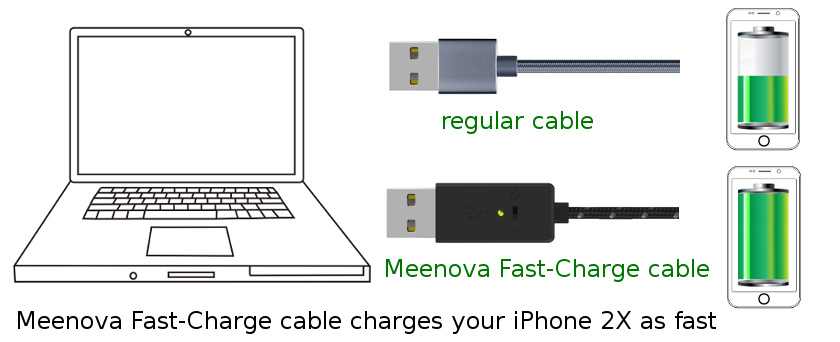 Unleash the charging power of your computer/laptop's USB ports. Use this Fast-Charge USB-Lightning cable to charge iPhones with lightning port 2X as fast (iPhone 5/5s/6/6s/ & Plus) -- compared with regular cables.

Safety first. Ever connected your phone/tablet to computer/charger at public places such as bar, airport, hotel or library? Our Secure Fast-Charge cable blocks data transfer, so bad guys can't steal data off your device; or worse, compromise it.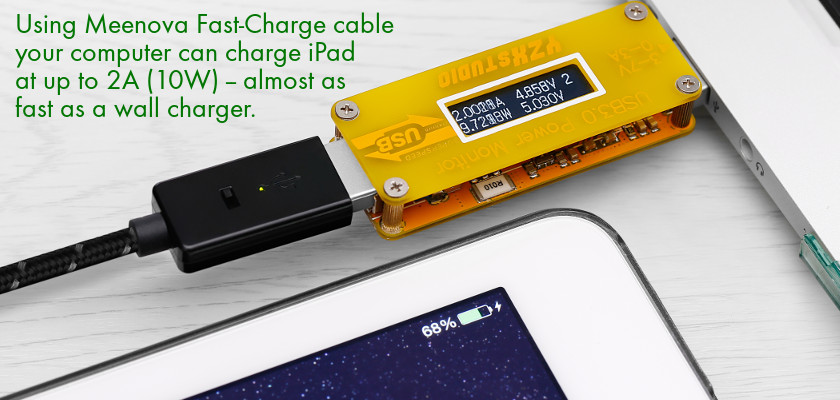 Your computer/laptop won't charge your iPad? No problem, give it a boost using our Fast-Charge USB-Lightning cable. Now it charges iPad at up to 2A & 10W, nearly as fast as the Apple official wall charger. No need for a bulky wall charger -- your computer/laptop can do it all.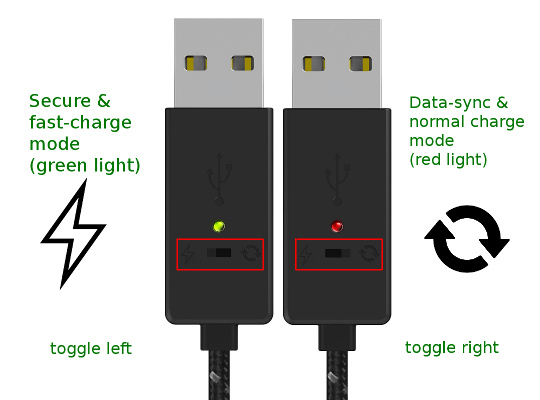 When cable is in Secure & Fast-charge mode, it blocks data transfer. Need to do data transfer with computers sometimes? No problem, just toggle the swith to Data-Sync mode -- in this mode, it just works like a regular cable, charging speed will be the same as regular cable as well.

Guaranteed to work with all Apple devices with Lightning port and all iOS versions, including iPhone 6/6s & Plus, iPhone 5/5s/5c, iPad 2012/Air/Air 2, all iPad Mini's, iPod Nano 7, and iPod Touch 5/6.
Buy with confidence and peace of mind.
Tough, Strong & Tangle-Free
It features tangle-free nylon braided cable sleeve which can sustain 5000+ times of bending without breaking or performance degradation. Nylon fabric is also water resistant.
CE & RoHS compliant
Rest assured that it is safe for you and safe for the environment.
Technical Specs
Connectors: USB 2.0 type A and Apple 8-pin Lightning
Cable length: 1 meter (3.3 feet)
Warranty
2-year limited warranty
Package content
(1) Smart & Secure Fast-Charge USB-Lightning Cable
(any other devices shown in illustration pictures are not included)

click to view larger pictures.