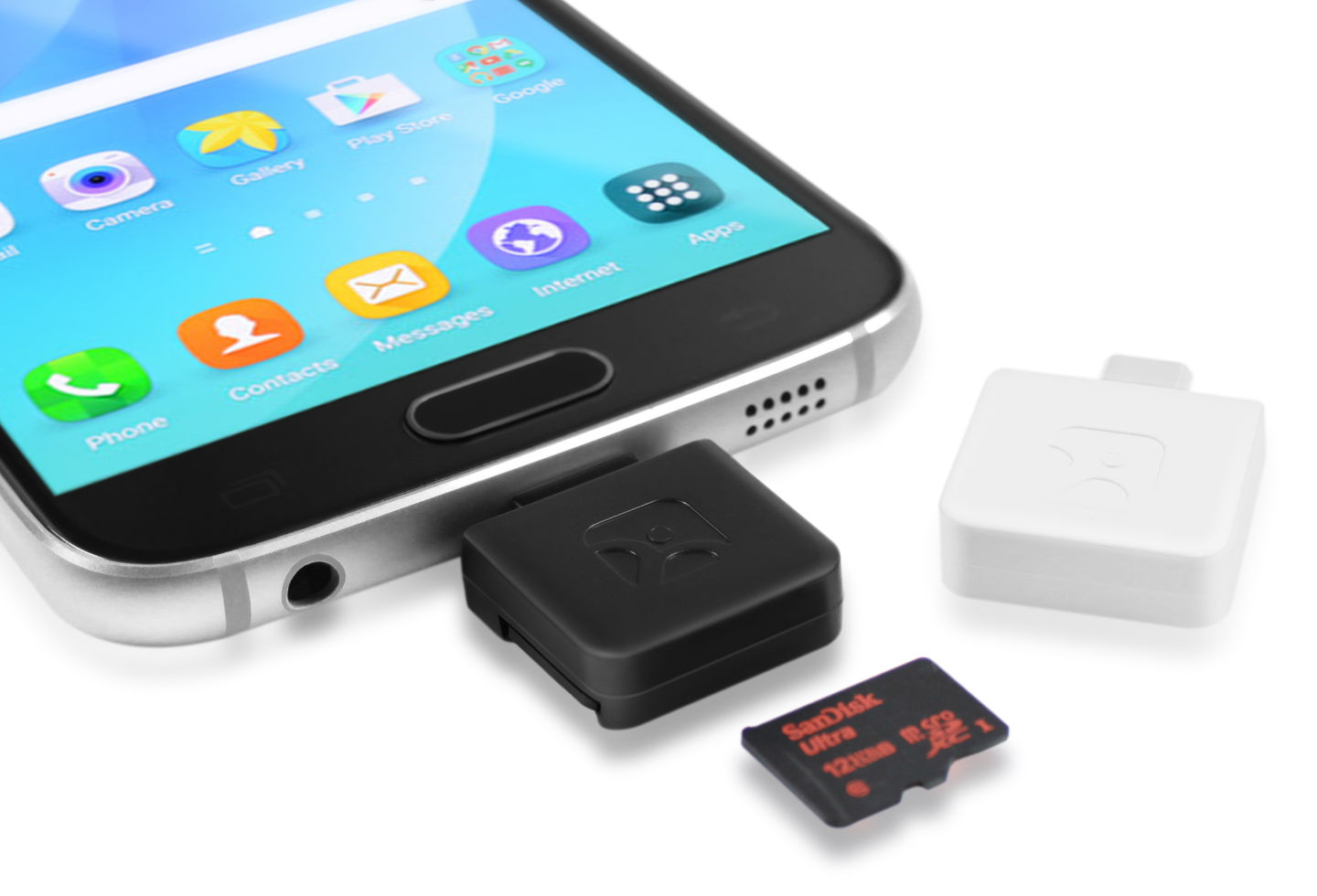 Dash Micro for Android
Really small. Truly portable. Actually useful. Specially engineered for your Android smartphones & tablets. The all new 2nd generation Mini MicroSD Reader, better and faster.
The world's smallest Mini MicroSD Reader for Android is now also the fastest, supporting UHS 50MB speed. It is also sturdier with better build quality. As a bonus, it comes with a protective case that can be used to attach it to a key ring or carabiner.
Like an SD/MicroSD card reader that you often use on PC computers, except this one comes with a MicroUSB connector to plug into smartphones & tablets with MicroUSB port. Use it to play video/music on a MicroSD card. View photos/documents, copy and backup any or all of your files.
Praises of the original Mini MicroSD Card Reader for Android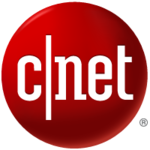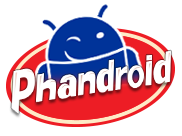 "So far in my experience, I have nothing but good things to say about the tiny accessory. I found that its small stature was way more convenient to use than the traditional micro SD card reader/USB OTG cable combo and at $12 ($3 worldwide shipping), it wont break the bank."
-- Chris Chavez, October 21, 2013; phandroid.com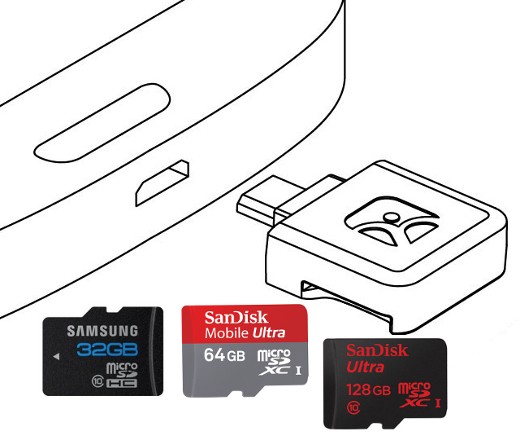 Supports MicroSD cards up to 128GB.
Works on computers too, using the included USB-MicroUSB adapter.
Coin size, smaller than a US quarter.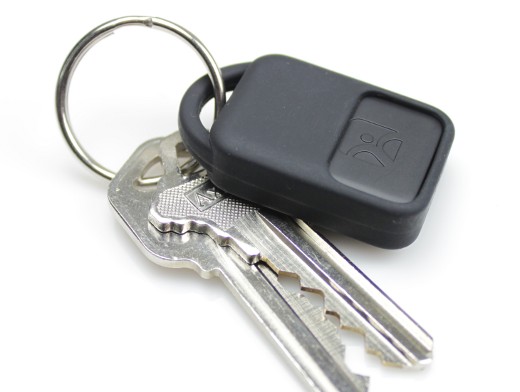 Attach it to a key ring via the included silicone case, take it anywhere you go.
List of Compatible Devices
Due to hardware and software limitations of many Android devices -- especially older ones, compatibility with devices not listed here can't be guaranteed.
Samsung: Galaxy S7, S7 Edge, S7/S6 Active, S6, S6 Edge/Edge+, Note 5/4/3/2, S5/4/3/2, S5/4 Active, A7, Alpha, Mega; Galaxy Tab S, Galaxy Tab/Note Pro, Galaxy Tab 4 8.0/10.1, Galaxy Tab 3 8.0/10.1, Galaxy Note 10.1 (2014), 8.0; Galaxy Express.
HTC: One 2013/2014/2015 (M7, M8, M9), Desire Eye, One Max, One Mini, Desire 7060, First, One X+, Evo 4G LTE, DROID DNA.
Motorola [*]: Moto X (2015, 2014, 2013), Moto G, Droid Mini, Droid Ultra, Droid Maxx, RAZR M, RAZR HD, RAZR MAXX HD, Xyboard 8.2" Tablet.
Google [**]: Nexus 6, Nexus 9, Nexus 5, Nexus 7 (2012 & 2013), Nexus 10, Galaxy Nexus.
Sony: Xperia Z2 Tablet 10.1, Z1, Z1 Compact, Z, Z Ultra, Tablet Z; Xperia S39h.
LG: G4, G3, G2, Optimus G Pro; OnePlus: One; Asus: MeMO ME171, MeMO Pad FHD 10; Dell Venu 8; Lenovo K900
Xiaomi: 4, 3, 2S, 2A, 2, 1S, RedMi, Xiaomi Box; Huawei: X1, B199, Ascend P6, Ascend, D2, Mate; Oppo: Find 7, N1; Meizu: MX3, MX2, MX.
Most Windows XP/Vista/7/8 computers, most Windows 8 Tablets (including Dell Venu 8/11 Pro, Lenovo MIIX2); Apple: all Intel-based notebooks and desktops.
* Note:
please
check here
for more information.
** Note:
third-party software required or device being rooted.
Technical Specifications
Dimensions: 0.8"x1.1"x0.3" (20x27x7mm)
Outer dimensions when plugged-in: 0.8"x0.8"x0.3" (20x20x7mm)
Weight: 0.1oz (2.7g)
Interface: USB Micro-B, USB 2.0
SD card supported: MicroSD, MicroSDHC, MicroSDXC up to 256GB (max available today) and higher (future).
Power consumption: 0.22w standby, 0.44w read/write
Max speed tested: 45 MB/s read, 41 MB/s write
PC compatibility: Windows XP/Vista/7/8, Mac OS X, Linux 2.6 and up; using USB-to-MicroUSB adapter (included).
Smartphone/Tablet requirement: Android 4.0 and up with power-enabled USB-OTG hardware capability and USB Mass Storage support in software.
Package Contents
| | | | |
| --- | --- | --- | --- |
| | Mini MicroSD Card Reader | | Silicone Case |
| | USB-to-MicroUSB Adapter | | |

The
original Mini MicroSD reader
was made possible by 5692

backers.
Our original
kickstarter campaign
.
Hall of Backers.
Designed in California, US. Made in China.