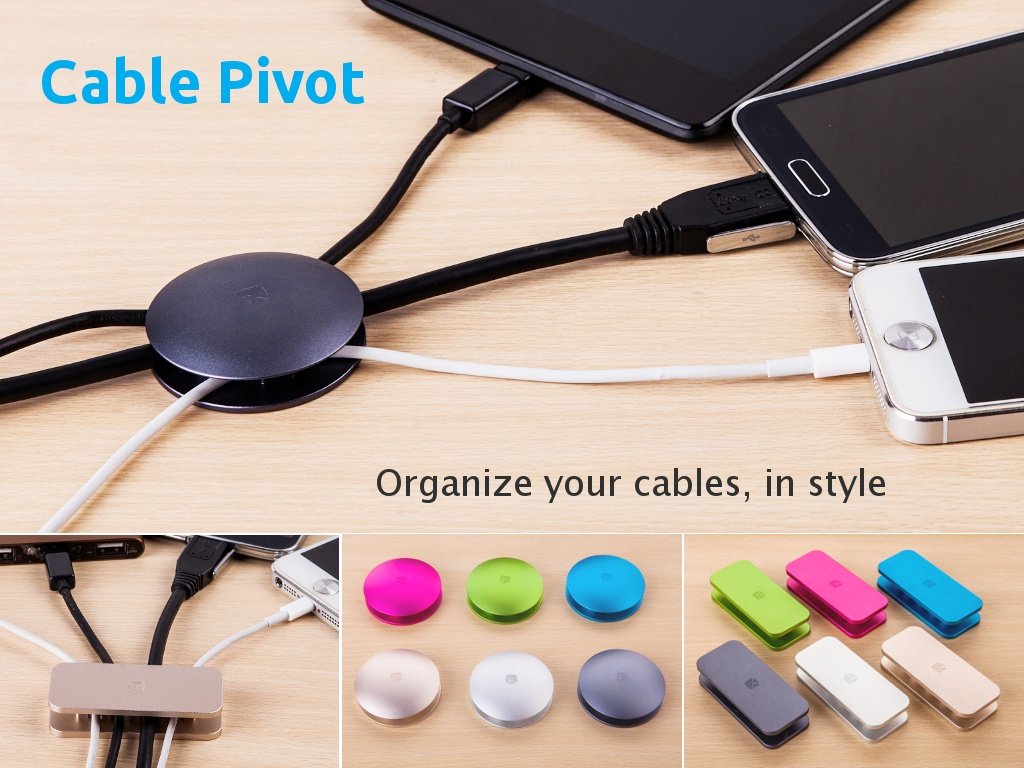 Cable Pivot
Two great-looking cable organizers to keep your desk neat and free of cable tangling. Crafted from aircraft-grade aluminum.
We present to you, Cable Pivot, two stunningly beautiful desktop cable organizers that keep your cable organized and tangle free, and help you keep your desk neat and looking good.
Cable Pivot is designed to be functional and practical. It aims to solve one problem: organize the messy cables on our desk -- power cord, USB cable, USB charging cable, network cable.
We want them to do their job while looking good. We created 2 designs with 2 very distinct looks: one Round design with a dome-shaped top, one Rectangle with rounded corners. They both look simplistic and yet gorgeous.
Directions
Positioning. Before the first use, peel off the clear plastic sheet on the bottom. Place Cable Pivot on a dry, clean, flat surface. It adheres immediately. May slightly apply pressure.
Removing/Re-positioning. Cable Pivot can be removed without leaving any sticky residual. To remove it, pull up on one corner gently and slowly. Don't try to pull the whole Cable Pivot up at once -- you may damage it or the surface uderneath. It then can be re-positioned.
Cleaning. If necessary (when dirt starts to accumulate), clean the bottom with a soft, damp cloth. This will help to restore stickiness of the base. Don't use solvents, alcohols, or cleaners. The other part of the Cable Pivot can be cleaned using soft damp cloth as well.
Warning. This is NOT a toy. Keep it away from small children. It contains magnet. Keep it away from electronics that may be affected or damaged by magnet.