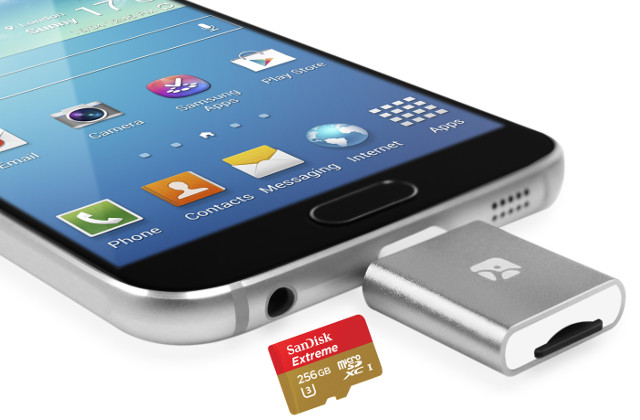 Dash Micro G3 MicroUSB
Simply the most technologically advanced card reader.
The classic Dash Micro Reader updated with a more refined design, featuring aircraft-grade aluminum casing & spring-loaded cart slot. It is also equipped with a unique reversible MicroUSB plug -- you can insert it either way into the conventional MicroUSB port found on most smartphones made prior to 2016 and some 2016 phone models such as Samsung Galaxy S7.
Just like its predecessor, it lets you read from & write to MicroSD card on your smartphone, tablet and computer with MicroUSB port. Use it to play video/music stored on a MicroSD cards, view photos/documents, copy and backup any or all of your files.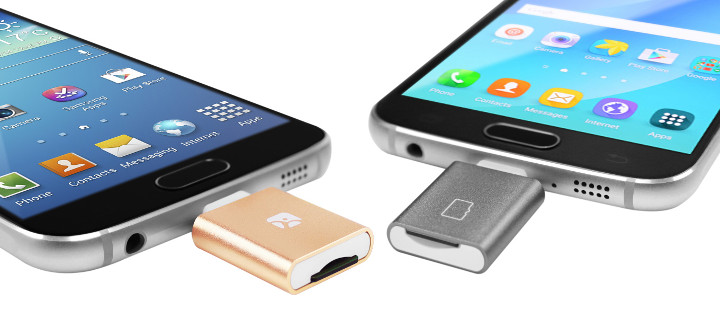 Not your ordinary MicroUSB accessory.
A unique reversible MicroUSB plug makes this reader like no other that you have seen: you can plug it either way into your phone/tablet and it works both ways.
This way up or the other way? It doesn't matter -- it works either way. You don't need to fumble with the orientation of the plug any more.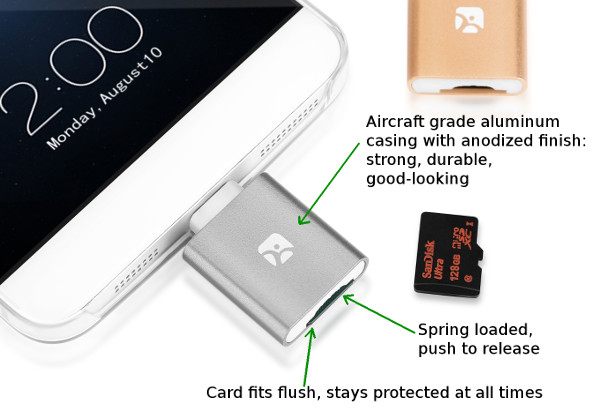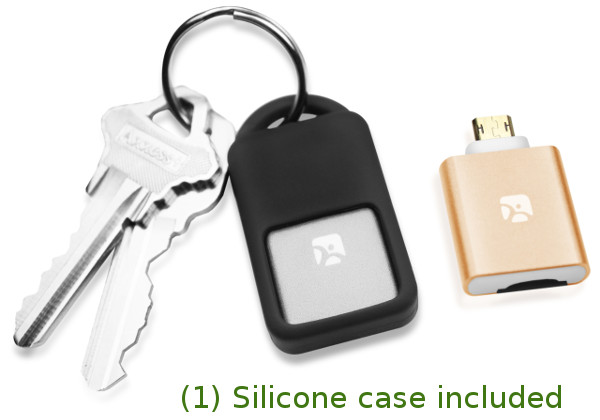 Simplistic design with clean and elegant lines.
Tough, strong & durable aircraft-grade aluminum casing.
Available in three great-looking colors.
Expandable & portable storage has never looked so beautiful.
Popular Compatible Devices
Devices need to support USB Host or USB-OTG to be compatible.
Samsung: Galaxy S7, S7 Edge, S7/S6 Active, S6, S6 Edge/Edge+, Note 5/4/3/2, S5/4/3/2, S5/4 Active, A7, Alpha; Galaxy Tab S, Galaxy Tab/Note Pro, Galaxy Tab 4 8.0/10.1, Galaxy Tab 3 8.0/10.1, Galaxy Note 10.1 (2014), 8.0.
HTC: One 2013/2014/2015 (M7, M8, M9), Desire Eye, One Max, One Mini, Desire 7060, One X+, Evo 4G LTE, DROID DNA.
Motorola: Moto X (2015, 2014, 2013), Moto G, Droid Mini, Droid Ultra, Droid Maxx, RAZR M, RAZR HD, RAZR MAXX HD.
Google: Nexus 9/6/5, Nexus 7 (2012 & 2013), Nexus 10, Galaxy Nexus.
Sony: Xperia Z2 Tablet 10.1, Z1, Z1 Compact, Z, Z Ultra, Tablet Z; Xperia S39h.
LG: G4, G3, G2, Optimus G Pro; OnePlus: One; Dell Venu 8/10
Xiaomi: 4, 3, 2S, 2A, 2, 1S, RedMi, Xiaomi Box; Huawei: P8, Ascend P7/P6, Ascend, Honor 6, Mate; Oppo: Find 7, N1; Meizu: MX3, MX2, MX.
Specifications
Interface: USB Micro-B, USB 2.0
SD card supported: MicroSD, MicroSDHC, MicroSDXC up to 256GB (max available today) and higher (future).
Works with Android 4.0 and up, USB-OTG capability required
Works with Windows 7/8/10, Mac OS X, Linux 2.6 and up; using USB-MicroUSB adapter (included)
Package contents:
Dash Micro G3 MicroUSB MicroSD Reader (1), Silicone case (1), USB-MicroUSB adapter (1)
Warranty:
2-year limited warranty